My Books
Page 2 of 2
Alignments - How to live in harmony with the Universe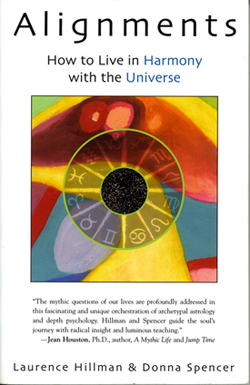 The mythic questions of our lives are profoundly addressed in this fascinating and unique orchestration of archetypal astrology and depth psychology. Hillman and Spencer guide the soul's journey with radical insight and luminous teaching.

--Jean Houston, Ph.D. author of "A Mythic Life" and "Jump Time"

This is one of the user-friendliest books on astrology I've read. The stories are captivating and the vision inspiring. This is astrology at its best, expertly presented and focused on specific issues in real life. Anyone who has yet to discover the intelligence and usefulness of good astrology could begin with this thoughtful and penetrating book.

--Thomas Moore, author of "Care of the Soul" and "The Soul's Religion"

Laurence Hillman and Donna Spencer take us out of the tyranny of feeling bound to our past and open the sense of destiny experience, allowing soul to breathe again as it feels the call from the future. An extraordinary book, full of practical significance and beautiful, moving stories bridging depth psychology and vibrant astrology. If you want to feel your purpose for being here, with very specific indications of your life work and love, this book shows the way.

--Robert Sardello, author of "Love and the World" and "The Power of Soul"
Book Reviews
The Mountain Astrologer - Mary Plumb's Review in the September 2003 issue:

This short and clearly written book is the product of a fertile collaboration between a therapist and an astrologer. Laurence Hillman, who has been an astrologer for 25 years, is the son of psychologist and author James Hillman. Donna Spencer has had a private psychotherapy practice for more than 30 years and has done postdoctoral studies with Milton H. Erickson and Gerhard Adler, on the workings of the unconscious mind. Hillman and Spencer have developed the "Practice," a method of working with clients; the two look "at the same pattern but from a different point of view." The book's emphasis is on psychology; the astrological method used here is basic, yet penetrating: Alignment is shown in the chart by the North Node, which indicates one's calling and serves as an integrating motif for the entire horoscope. Alignments is a gentle and deceptively simple book. Using basic astrology and clear language, the authors present a powerful tool for self-awareness. Practicing astrologers may enjoy this book as a reminder of the fundamental technique that can have a life-changing impact on your clients. Certainly, readers who are just beginning to explore the confluence of archetypal astrology and depth psychology will not find a more elegant and open invitation than that presented by Laurence Hillman and Donna Spencer in their moving book.

Branches of Light Review - Fall/Winter 2002/2003

Laurence Hillman (yes, he is the son of psychologist James Hillman) has been an active astrologer for 25 years. Here he teams up with Donna Spencer, a psychotherapist also seasoned in her craft, to present a radical, readable, and inspiring method for aligning your personality with your calling. This book is based on the premise that our life has meaning and that we are privy to know what our specific purpose is for being here. In a psychological setting, astrological theory is translated into a practical recommendation with tangible results.

Spirit of Change Review

Explaining the basic premise of astrology to the layperson is a daunting task. Laurence Hillman and Donna Spencer accomplish this by linking psychology and astrology through an understanding of synchronicity, "the strong parallels between interior and exterior events that are emphatically endowed with meaning." Archetypal images in astrology are a means for discussing the soulful energies that connect a person with the universe, bridging the gap between our collective and our personal unconscious or soul. Becoming aware of the synchronicities in our lives is "a sign that the deepest part of us is being awakened to its alignment or misalignment with the universe." As an astrologer, I have come to honor the importance of the North Node in such work, as a key to the spiritual path of an individual. Likewise, the South Node as an indicator of the obstacles or ways in which we get dragged back into past life situations, rather than dwelling in the rich opportunities that exist for us in the present.
Hillman and Spencer come to a similar conclusion in Alignments. In describing one's calling, the authors speak of how the role of being the awakener of yourself becomes an instrument of the awakening of humankind. Rather than an astrological cookbook to finding your own Node (despite a brief section on the meanings of your North and South nodes by house position), Alignments offers a more philosophical and personal look at the sacred task of aligning your personality with your purpose. Hillman and Spencer then discuss how they apply this information to their own lives, and in helping their clients integrate the symbolic wisdom of astrology with the analytical psychology of Jung.

Publisher's Summary:

This book is based upon the premise that our life has meaning and that we are privy to know what our specific purpose is for being here. In a psychological setting, astrological ideas and theory are translated into practical therapy with tangible results. No longer is the "patient" gloomily working out his or her issues. Instead, there is a focus, a direction to the therapy process that guides a person towards his or her specific calling in life. This book presents a new, radical, and inspiring method for aligning one's personality with one's calling.
The authors, a psychotherapist and an astrologer, both seasoned in their crafts, have designed a book which develops practical methods of discovering an individual's calling in life; enables the reader to evaluate if their lives are on track or off track with this particular calling; describes an original and succinct theory with practical examples; presents a new look at relationships - based on calling - which deepens the partnership of marriage, friendship, and parenting,; sees calamities, dreams and synchronicities as wake-up calls to finding one's calling; and deals with these serious subjects in a humorous and lighthearted way.